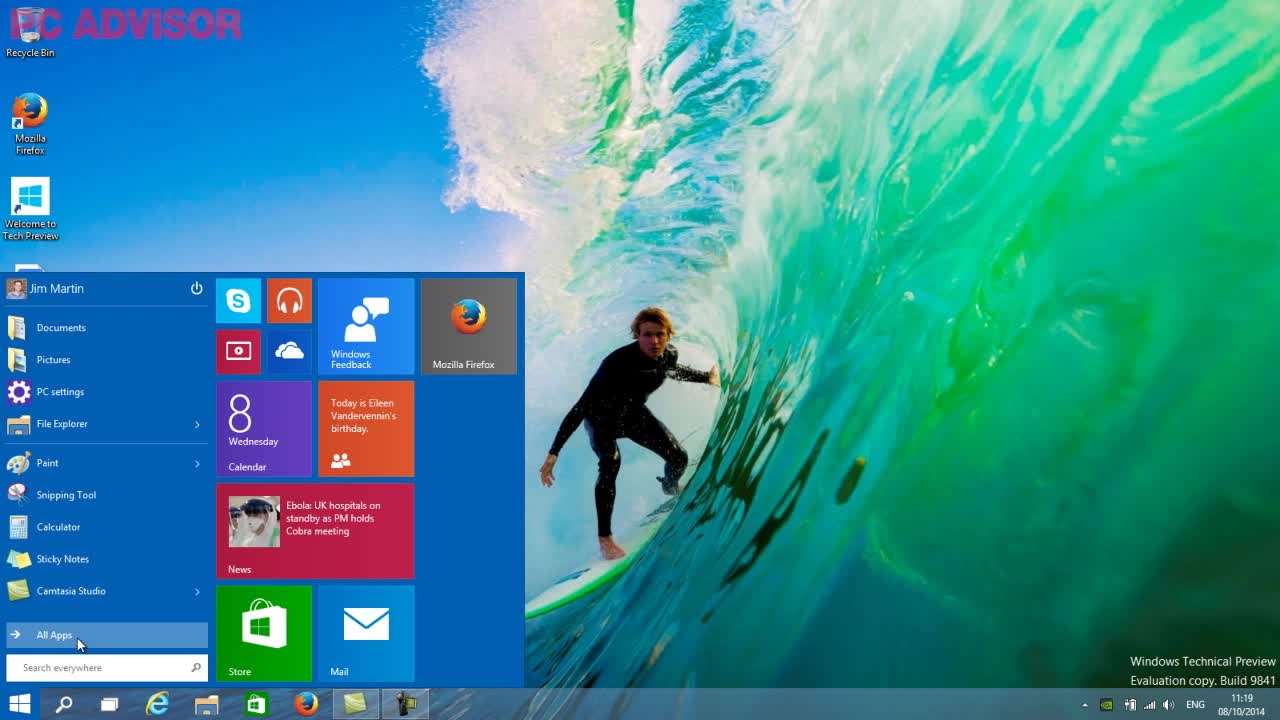 Imagine you buy a new car, the same brand you've driven for years. But in this new model, the steering wheel is in the back seat.
"That's the future!" says the salesman, rattling off a list of reasons it's better to steer from the rear. Driving home with your new car, you'd probably end up in a ditch.
The last time Microsoft updated Windows, that's what happened. In a desperate plea for relevance in a smartphone and tablet world, Windows 8 presented radical ideas about operating computers with fingers and pens instead of mice and keyboards. But it turns out melding touch-based and traditional operating systems was the wrong idea.
Most people avoided upgrading like the plague. With Windows 10, which arrives as a free update Wednesday, Microsoft puts us back in a familiar driver's seat. Turn it on and, hallelujah, there's your desktop, unencumbered by gobbledygook. All the important stuff is back where you can find it, including the Start menu.
It's worth the upgrade from Windows 8 for these repairs alone. You should also get Windows 10 if, like me, you still use Windows 7 on your primary computer. You'll love its new search. It can do some things other operating systems can't, like identify your face instead of making you type passwords. It will talk back when you call out, "Hey, Cortana," to summon Microsoft's fledgling virtual assistant.
And chances are, it will even work on your household's most senior PC. For the first year, upgrading your computer to Windows 10 is free. If you don't do it in the first year, Microsoft may charge you $120 or more for the upgrade.
Windows is actually useful again—assuming you still rely on a PC. These days we're spending more of our time on smartphones and Web browsers, and it's Microsoft's burden to keep evolving Windows to stay relevant to that reality.
Alas, Windows 10 also misses opportunities to tip things in its favor. Its idea of Internet savvy is shoehorning in lots of new ways to get you to use Bing, Microsoft's unpopular search engine.
But at least this time, Microsoft doesn't let its existential crisis get in the way of important improvements. Three months of testing Windows 10 determined that this familiar yet fresh overhaul far outweighs any problems.
If you knew how to use Windows XP back in 2001, you'll have no problem finding your way around Windows 10.
The Start menu is back, giving easy access to your most-used applications and controls. All your apps launch in a familiar desktop view, with resizable, move-anywhere windows. Even the trusty old recycle bin is there, waiting to be emptied.
The interface is colorful but flatter now, which makes things easier for aging eyes. You can still touch the screen if you have a compatible device, but Microsoft ditched the dual interface of Windows 8.
If you still want to use Windows 10 as a tablet, there's a separate mode that expands the Start menu into a full screen of finger-friendly tiles. On a dual-purpose device like the Surface, the system is smart enough to switch back to desktop mode when you attach a keyboard.
Alongside the applications in the Start menu there's now a field of live tiles. These contain your favorite programs and frequently updated information. This concept was the best thing about Windows 8, and now it's finally used correctly.
With a little setup, live tiles can be a dashboard for your life. I've made a large tile for my calendar appointments, as well as weather, news and Twitter updates. The problem is that not every application can show live updates yet, not even popular ones like Outlook and Flipboard.
Search also plays a much more prominent role in Windows 10, with a box pinned next to the Start button. Type anything you want on your computer—files, folders, applications, even obscure settings—and up it comes. It can also query the Web at large, via Bing.
If your computer has a microphone, you don't have to type anything at all. Windows incorporates the Cortana voice assistant from Windows Phone. She can answer questions, launch applications, help with your calendar, even crack jokes.
With permission, Cortana learns about you based on what you search, plus information that passes through Windows 10's Mail and Calendar applications. (You can edit some, but not all, of what Cortana knows about you in her Notebook.) When you tap on her circular icon next to the Start button, Cortana presents a digest of news and events she thinks you'd like to know about.
Talking to your computer has the potential to be useful, but Cortana's still too often a hapless assistant. She misread flight information in my email, leading me to worry I'd booked wrong. (I hadn't.) And too often, Cortana defaults to Bing searches, even upon hearing commands such as "set a timer for five minutes."
When upgrading, the fear is that your computer could become slow or unusable. (Remember Vista?) I haven't experienced that with Windows 10.
For the past two weeks, I've used it on a Surface Pro 3 as my primary work computer without major complications. And since May, my colleagues and I have tested Windows 10 on eight different computers, including a Mac.
Windows 10 zips right along, and in a few ways speeds up multitasking. It's easier now to organize a bunch of different windows and jump between them by tapping a new Task View button, located next to search.
Windows 10 also manages to do this without scaling back functions on older machines. Upgrading an eight-year-old laptop running Windows 7 (HP EliteBook 6930p) took an hour and produced a computer that felt nimble and more capable. The only hitch: The laptop's fingerprint reader no longer worked.
Microsoft says Windows 10 should run on most computers, programs and peripherals that were compatible with Windows 7, but it doesn't promise everything will work. On two machines, I had to manually update drivers (for cameras and fingerprint readers). I also encountered a few bugs, such a frequent crashes in the People application (which contains contacts).
A program called Get Windows 10 that comes with the latest updates to Windows 7 and 8 lets you check whether your system is compatible. If you upgrade and don't like what you see, there's a way to roll back to Windows 7 or 8 within 30 days.
One word of caution: My Windows installations were fairly clean, but hardware manufacturers could bog down a new Windows 10 PC in unexpected ways.
For the first time, every Windows PC will have Microsoft's own antivirus called Windows Defender turned on. (On Windows 8, some manufacturers deactivated Defender.) And the new Edge browser screens for phishing sites that would steal your personal information. You may still want to buy your own security software.
The most impressive new protection, called Windows Hello, is straight out of "Mission: Impossible." It replaces passwords with your face, your eyeball or your fingerprint. You'll need special hardware to make it work, but it means one less hassle when you log in to your computer—and, in the future, it'll work on applications and websites, too.
I tested Hello on the lock screen of a Lenovo ThinkPad Yoga 15 that has a 3-D-sensing camera. A photo of my face couldn't trick it. If anything, it was too sensitive: In certain light, it wouldn't even unlock for the real Geoff. (When that happens, you can just enter your password.)
The biggest problem with Windows 10 is that I have little reason to use it outside of work. At home, I rely on a smartphone, mobile apps and websites that don't require Windows—and sometimes fit awkwardly in a Windows world.
Windows 10 is a reminder that computer software alone doesn't equal digital happiness anymore. Among the first things it will ask you to do is log in to a Microsoft account. But it feels like a ham-handed attempt to make us use Microsoft's own less popular (and inferior) services like OneDrive and Bing.
Many of these services work across devices, but—like Windows smartphones—they're not worth switching to. The Windows 10 Photos app can sync photos with OneDrive, but it is anemic compared with Google and Apple's Photos. The same applies to Microsoft's music service Groove.
The new Edge Web browser, whose standout feature is a note-scribbling gimmick, trails Google's Chrome in speed or usefulness. And Cortana is not helpful enough to get me to ditch Google for Bing. (There are Android and iPhone Cortana apps coming.)
Strangely, Windows 10 doesn't even have a special relationship with Microsoft's own Office suite, a core product for millions. Cortana can't use Outlook to send emails, schedule meetings or pull up phone numbers. My Outlook calendar can't show up in my Start Menu live tiles. (Office 2016, which comes out this fall, may address some of these issues.)
Perhaps the best thing about Windows 10 is Microsoft's tacit acknowledgment that it still has much work to do. Windows will now be a "service," they say, updating itself constantly.
Wouldn't it be nice to look outside and see that, overnight, your car became sleeker and more efficient? As long as nobody moves the steering wheel.