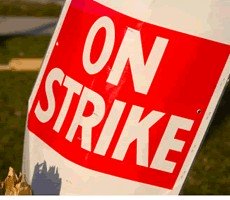 The Ghana Medical Association has begun a strike that may lead to mass resignation of doctors from the public service across the country.
It follows a deadlocked meeting held Wednesday over the absence of condition of service for doctors and other health workers.
After almost four hours of negotiation, the representatives of the GMA came out announcing there were issues unresolved in the proposal they submitted to government for their conditions of service.
"As we speak now the GMA is on strike," General Secretary of GMA Dr Frank Serebour told Joy News Matilda Wemegah "we can now go home and sleep and declare ourselves unemployed," he added.
The doctors gave a June ending deadline to withdraw their services completely if government failed to finalise a document that will serve as their conditions of service but they agreed to extend their deadline by a month precisely on July 28.
The doctors say for several years they have worked without any single document that determines their welfare.
Apart from a two-week mortuary fees a doctor is entitled to when he or she dies, the doctors say there is nothing that indicates how they will be treated if they get sick or a family member gets sick.
The doctors say they pay for their own medical expenses and that of their families, a situation they say must end.
After the June deadline was postponed the doctors met at a General Council and agreed on a road map to follow if government were to renege on the promise to complete, sign and deliver a document that will serve as conditions of service for doctors.
When the Labour Minister came out of the botched meeting he told Matilda Wemegah the doctors have resolved to continue their work.
But the doctors had a different story to tell.
Dr Frank Serebour said they have begun their strike and will follow the road map.
According to that road map the doctors will from tomorrow begin with the withdrawal of OPD services for a week.
If after a week their concerns are not resolved they will withdraw emergency services and they will later resign en masse.