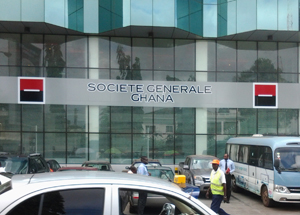 The Societe Generale Ghana has denied report citing it and four other banks of engaging in money laundering .
The bank has since written to the central bank, and says it is awaiting an official communication of a leaked Ernst and Young audit report which allegedly found it and the other banks guilty of inappropriate transfers of foreign exchange.
Hundreds of millions of foreign exchange were allegedly transferred out of the country between October 2013 and November 2014 without the banks complying with the Foreign Exchange Act.
The Bank of Ghana is said to have imposed penalties on some of the banks totalling 6.6 million Ghana Cedis.
The other banks who are alleged to have topped the list of defaulting banks include Stanbic Bank, Access Bank, Universal Merchant Bank and Zenith Bank.
Meanwhile, Societe Generale says it is yet view the report to ascertain the truth of the claims being against it.
Managing Director Gilbert Hie tells Joy Business the bank has officially written to the Central Bank to request a copy of the report.
"What I know is what has been spread out is not well spread out", he told Joy Business.
Mr. Hie however admits Societe Generale has been made to pay a penalty of over GHC 100, 000 for missing information on some import and export documents.
– See more at: http://www.myjoyonline.com/business/2015/July-30th/societe-general-denies-money-laundry-report.php#sthash.mNXuqNGJ.dpuf