Nigeria has been thrown into mayhem after Yul Edochie revealed a new wife and son ostensively on his first wife's blindside. For Reno Omokri, polygamy is scripturally permissible. Therefore, Yul Edochie has done no wrong.
Yul Edochie outdoor his second wife and baby son on social media yesterday. And before fans could process the news, his first wife attacked him with a "God will judge both of you" comment on the post.
According to Reno Omokri, polygamy is not in sin. And that even God gave David multiple wives in 2 Samuel 12:8. He further explained that monogamy is a western contrast, not a Christian one.
"Polygamy is Scriptural-Exodus 21:10. It is hard for a single woman to satisfy the libido of a normal man. It is why we have a high rate of cheating in our society. Compare the rate of adultery in Europe and America with that of Saudi Arabia, and the point becomes clear.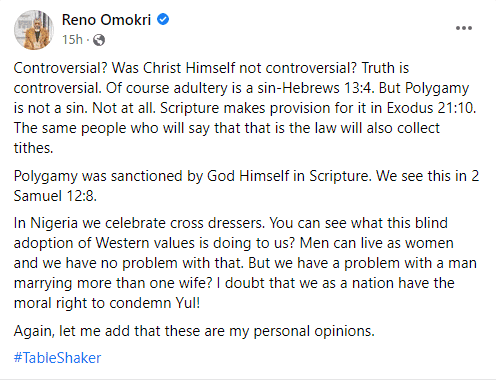 "Sadly, Black Africans accept this Western construct called monogamy, as a Christian one. This is why we are now tolerant of same-sex marriage and intolerant of polygamy. Meanwhile, God supports polygamy-2 Samuel 12:8, and gay marriage is abominable in His sight-Leviticus 18:22."
Reno also disclosed that although he will not encourage polygamy, Yul has done no wrong in his decision to take another wife.
"I won't counsel any man to marry more than one wife. However, polygamy is by far better than adultery and fornication. And while Scripture is clear that adultery and fornication are sinful, Scripture is CRYSTAL CLEAR that polygamy is permissible 2 Samuel 12:8."