John Dramani Mahama, flagbearer of the National Democratic Congress (NDC) has said that the opposition party is better than the governing New Patriotic Party (NPP).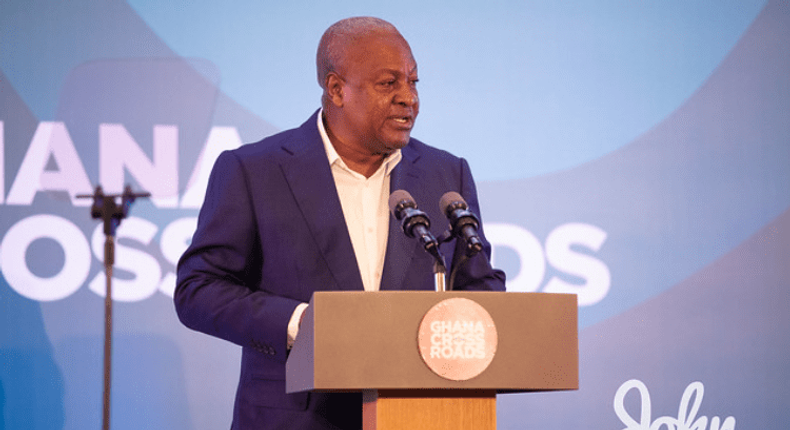 He said members of the NDC are not saints, however, they are better in comparison with the NPP.
Speaking in an address at the NDC's European Chapters Conference in Amsterdam, Holland over the weekend, Mr Mahama said the NDC has no intention of taking the mandate of Ghanaians for granted if the party wins the 2024 election.
"We have been in power, and our record is there for all to see. We do not claim perfection, but we in the NDC can never be like the NPP. We simply cannot be and are not as reckless and contemptuous of the people of Ghana as the NPP has been. We have never been and will not be as wasteful, ostentatious, and as imprudent as the NPP has been."
John Mahama delivers acceptance speech at UDS after winning flagbearer election
"We have no intention of taking the mandate of the people of Ghana for granted. We know we are going against an incumbent government that has proven that it is prepared to shed the blood of its citizens to hang on to power, as they amply showed at the Ayawaso West Wuogon by-election and the 2020 elections. And then there is an Electoral Commission whose neutrality in this electoral contest is questionable.
"Our work is therefore cut out for us. We must get off our marks immediately and convince Ghanaians that we are prepared to govern in addition to our superior record to that of the NPP."
Mahama in his acceptance speech after he was elected as the flag bearer of the NDC pledged to unite all members of the party, saying in the intra-party elections, there were no winners or losers.