Three suspects have been arrested by the Volta Regional Police Command for attempting to steal a transformer at Adaklu Tsrefe in the early hours of Thursday.
The suspects, who are all plumbers and residents of Tema Community 25, were apprehended by residents of Adaklu Tsrefe and later handed over to the Volta Regional Police Command for further investigation.
Sitsofe Agbodza, 26, Deladem Kodzo Tsrakasu, 29 and Wahab 20, are natives of Adaklu who were visiting their hometown to celebrate the Asogli Yam festival.
According to the General Manager of ECG in the Volta Region, Christina Jatoe-Kaleo, a hunter from Adaklu Tsrefe was on his way to hunt in the forest when he saw the three men around the ECG transformer. He questioned them and they threw an Iron rod at him.
The hunter realized they were thieves so he began shooting in the air to scare them.
"The suspects ran away and were later apprehended by residents of the community around 3:am who continued to chase the suspects. The suspects were later arrested by the police and sent to the Volta Regional Police Headquarters for further investigation," she added.
Ms. Jatoe-Kaleo commended the community for their vigilance and urged the general public to be on the lookout for such people since this negative activity is on the rise.
"As a company, we are committed to providing quality, reliable, and safe electricity services for our customers, but the activities of these individuals prevent us from delivering our core mandate. Once the transformer is stolen, power supply will be curtailed to customers, and this will affect businesses, schools, and even hospitals, so we humbly appeal to the general public to assist us in curbing this menace," she said.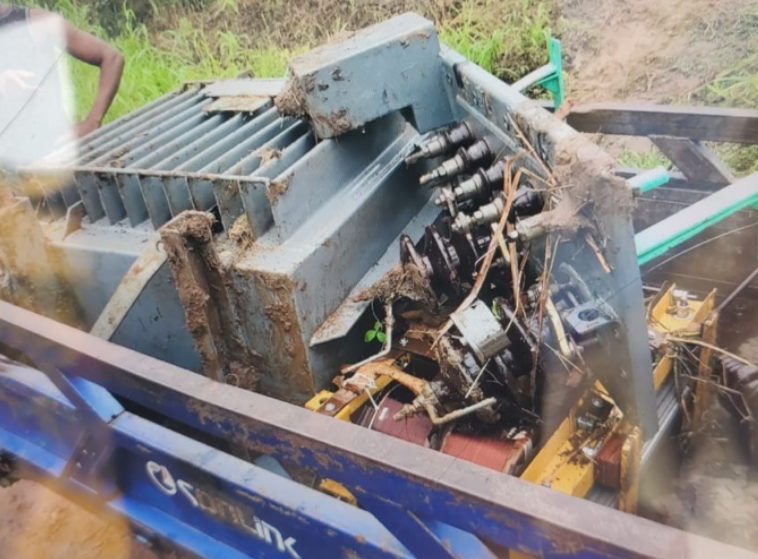 "The transformer is the most expensive component in our network and the value for the damaged transformer at Adaklu Tsrefe by these suspects is GHs104,000 minus labour and other expenses which we have to replace at our own cost and this affects our operations as well as our financial health. This new transformer could have been sent to communities without power supply or even extend power to other areas", she revealed.
Ms. Jatoe-Kaleo urged the general public to be vigilant and help protect ECG installations in their communities, homes and towns.
"Lately people are even stealing the earth wires at our substations and service cables of our customers which normally result in prolong outages so let's all come together to fight this menace. If you see anyone suspicious working at any ECG substation or facility, kindly report to the nearest police station or ECG via 0302611611", she said.
Ms. Jatoe-Kaleo assured the general public of the company's commitment to deliver on its mandate.