Ghanaian artist Black Sherif after becoming the first Ghanaian artist to reach the 100M streams milestone on Boomplay, has received the enviable Golden Club plaque from the digital music streamer.
Presenting the plaque to Black Sherif, Public Relations Manager for Boomplay Ghana, Paul Azumah-Ayitey, said "For a platform that first discovered Black Sherif as a potential rising star, Boomplay is proud to see his phenomenal growth in such a short time. Boomplay's Golden Club houses artists who have clocked and surpassed 100M streams. We are excited about the journey thus far and believe this will inspire other new and emerging Ghanaian acts to greater heights with Boomplay at their side as an enabler."
Blacko addressed his fans, "Reaching 100 million streams on Boomplay and being the first Ghanaian artist to achieve this on the streaming platform is a big deal to me. As a young kid from Konongo, who only had a dream and a voice, this brings me to the realisation that I can achieve any and everything so long as I believe and dare myself to take action. Thank you for this one, Blacko Tribe. Big love to the Boomplay team for putting me on from day one till now."
By joining Boomplay's Golden Club of top African music stars, including Burna Boy, Wizkid, Davido, Diamond Platinumz, Simi, Rayvanny, Fireboy, Omah Lay, Joe Boy and more, Blacko becomes another shining light of Ghana's music industry. The "Kwaku The Traveller" hitmaker will enjoy online and offline promotional support across Boomplay's operational markets and prioritization for his upcoming releases, including his highly anticipated album, as part of Boomplay's Golden Club member benefits.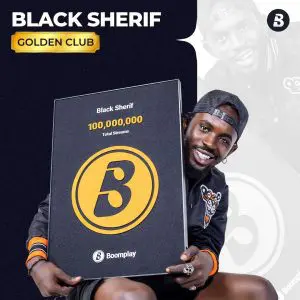 Born Mohammed Ismail Sherif, the 20-year-old talented artist released "Money", "Cry For Me", and "Destiny" in 2020. Later, he dropped "Money (remix)", "Adea Kye", and "Ankonam" which garnered huge buzz on Boomplay across several countries. The release of "First Sermon" and "Second Sermon" in 2021, would see Blacko go viral, ushering him into the mainstream limelight. Blacko earned a feature from fellow Golden Club member, Burna Boy, for the remix of Second Sermon". This gave him a further reach across Africa and opened the floodgates for plaudits from prestigious awards and platforms.
Boomplay's end-of-year Recap, highlighting stats and insights of music consumption and engagement on the platform, had Blacko emerging as Ghana's 2nd Most Streamed Artist of the year in 2021. His "First Sermon" and "Second Sermon" were the 1st and 2nd Most Streamed Songs of 2021 in Ghana.
Blacko's story written in bright stars, the sensational talent went on to win four awards at the 2022 3Music Awards, held in March 2022, including the Boomplay Breakthrough Act of the Year category. At the same event, he debuted a spectacular performance with "Kwaku the Traveller". The song skyrocketed him to African stardom and peaked at No.1 on both Boomplay Ghana and Nigeria charts. It currently has over 57 million streams on Boomplay.
Congratulations again to Black Sherif. Travel on!