The Accra Diocese of The Methodist Church Ghana has made a donation towards the purchase of chairs for the Damongo Methodist Chapel in the Savannah Region of the Republic of Ghana.
The donation was made in memory of the late Sis Naomi Elizabeth Korlekie Okine at a Night of Tributes and Songs held in her honour at the Rev Joseph Thomas Clegg Memorial Methodist Chapel, Kaneshie on Friday, July 15, 2022.
The late Mrs Okine was the last Vice President and first Lay President of The Methodist Church Ghana. She was also a one-time General Director of the Board of Social Responsibility and Rural Development of the Church and was recently recognised by the Connexional Lay Movement Council for her "immeasurable and unparalleled contribution to the Church".
Announcing the donation on behalf of the Accra Diocese, the Diocesan Lay Chairman, Sis Agatha Nana Ama Ennin Osei, said the gesture was in memory of the late Mrs Okine and in support of the Church in Damongo.
The donation was received by the Lay President of The Methodist Church Ghana, Bro William Orleans Oduro (Esq) who thanked the Accra Diocese and the family of the late Mrs Okine for the gesture.
He paid glowing tributes to the late Past Lay President, revealing, "ever since I assumed the position of Lay President, I understand the enormity of the work and what she did for the Church". "We thank God for her life and we thank God for her family as well for giving us a wonderful woman to serve The Methodist Church Ghana", he added.
Recalling a similar personal donation made by Mrs Okine before her demise, the Lay President noted "She's a blessed lady because she had a foretaste of how she will be celebrated and that alone gives me the satisfaction that at least, she's paid her dues".
The event saw representatives of various Methodist Dioceses pay tribute to the memory of the late Mrs Okine. Singing groups from various Societies and Dioceses within the Church rendered song ministrations in what turned out to be a solemn occasion.
Mrs Okine passed away on April 11, 2022 after a short illness and will be laid to rest on July 22, 2022. She was 87 years and survived by two adult children.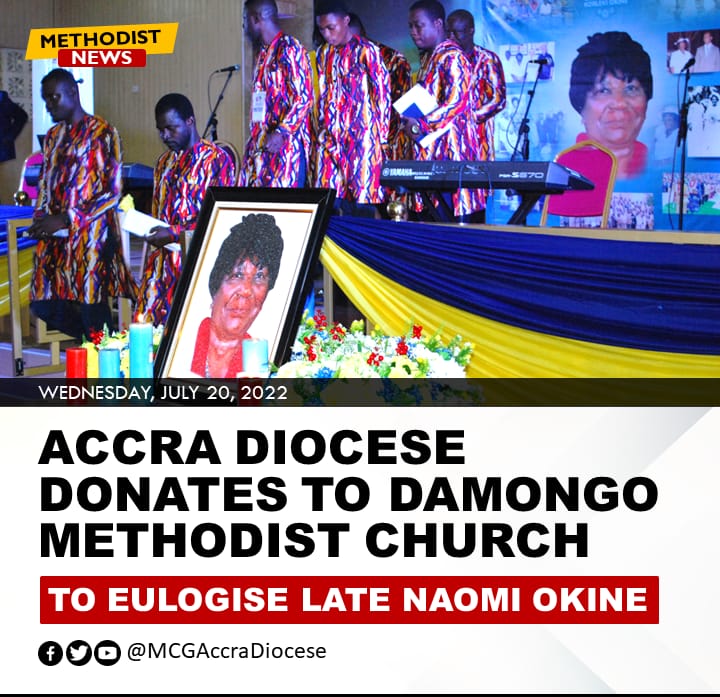 Powered By: The Methodist Multimedia Ministry, Accra Diocese
SOURCE: Emmanuel Ashong, Kaneshie